Trail Information
Hit The Trails During Your Stay
Whimcycle Trail Resort is a destination for adventurists! Featuring over 80 miles of single-track bike trails, the Santos area has trails for beginning riders as well as advanced and expert level cyclists. Our 6.25 acre property is surrounded by The Marjorie Harris Carr Cross Florida Greenway, home to the top 10 mountain biking trails, prime road cycling and exceptional hiking trails.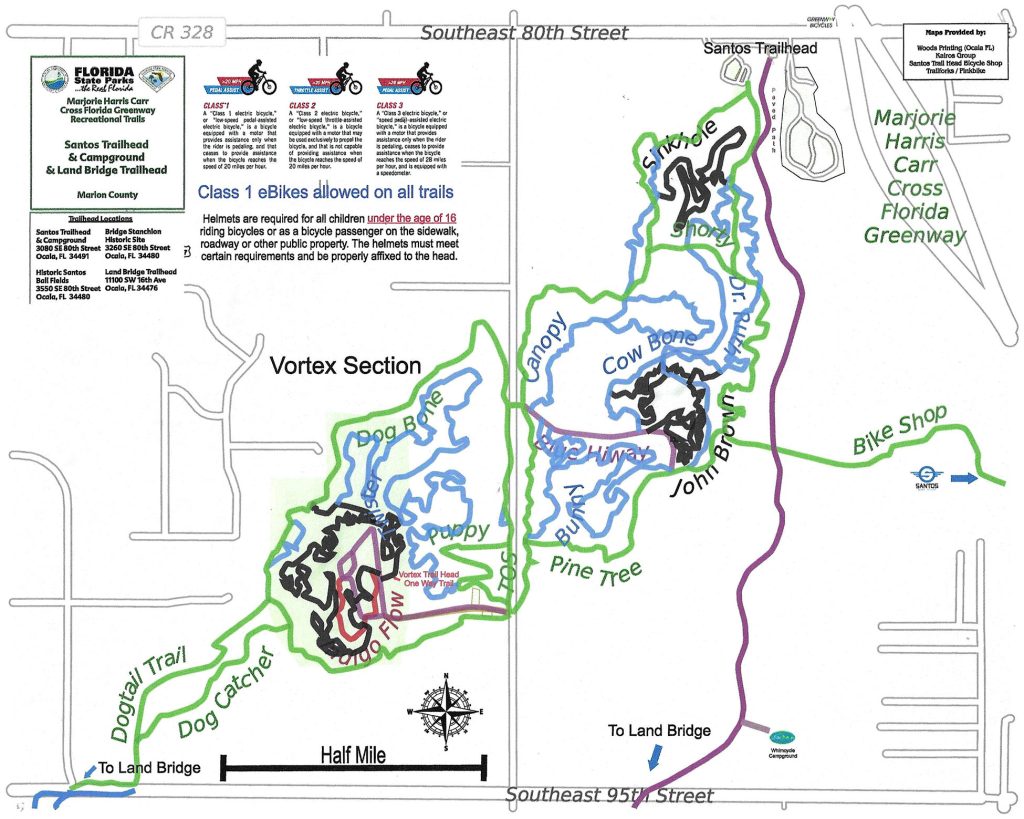 Whimcycle Trail
During your stay, you will have convenient access to Whimcycle Trail, which starts right here on the property and leads into a paved road trail, offering a 30-mile cycling adventure into the panorama of wooded rolling hills of the Florida Greenway.
Majorie Harris Carr Florida Cross Greenway
The perfect starting point for bikers of all difficulty levels, the Cross Florida Greenway allows you to choose the trail experience that fits your own skill level! The more than 70,000 acres of land has more than 300 miles of trails of all types including hiking, mountain biking, equestrian and paved multi-use.
The Santos & Vortex Loop
A 4.6-mile loop that takes an average of 90 minutes to complete, this trail is known to be a moderately challenging route. A very popular option for hiking, mountain biking, and running, the trail is open year-round and is beautiful to visit regardless of the time of year.
Equestrian Trails
If you're looking for the equestrian trails, you'll find a day-use equestrian staging area located just west of U.S. 441 and at the Santos Trailhead. The trailhead provides access to the Cross Florida Greenway equestrian trails that run clear over to the Pruitt Trailhead near Dunnellon. It's a truly extensive equestrian system made up of over 60 miles of horse trails with a variety of difficulty levels and even wagon and carriage opportunities.
The Baseline Road Trailhead
The Baseline Road Trail features a paved multi-use urban trail experience. Best known for its diverse scenery, wildlife viewing and rolling terrain along 5.1 miles, it's known to be an easy route you can complete in about 90 minutes. Offering both parking and amenities like a kid's playground, it's easy to understand why this trail gets more popular year after year.
Marshall Swamp Trailhead
Explore this easy, 4.7-mile unpaved trail through Marshall Swamp and a segment of the Florida National Scenic Trail. Marshall Swamp is a rather jungle-like escape from the city in a secluded natural environment that forces you to disconnect and enjoy your surroundings, while completing this 90-minute trail.
Land Bridge Section Loop
A 3.5-mile loop located off County Road 475A, this trail features a unique experience for all ages and all skill levels. Considered an easy route that takes roughly 60 minutes to complete, it was developed to provide access to the I-75 Land Bridge, which sits 100 feet above the highway and is 200 feet long. The trail offers restrooms with potable water, a beautiful shaded picnic area, along with a natural surface for biking and hiking!